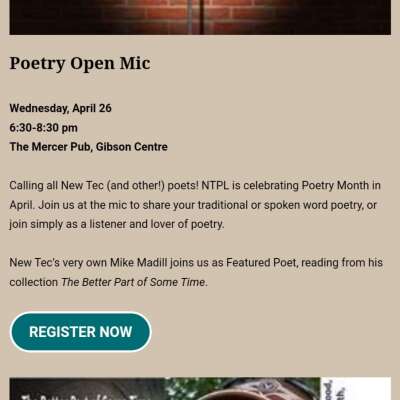 New Tecumseth Public Library Poetry Open Mic Night
April 26th, 2023 7 - 9pm
Featured reader at the Mercer Pub in the Gibson Centre in Alliston, ON.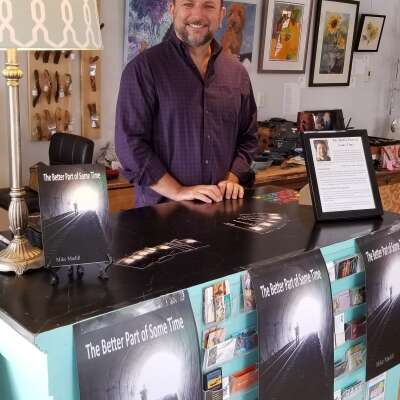 Book Signing
March 18th, 2023 12 - 4PM
The South Simcoe Arts Council's 'Forty One: Local Art Market' hosted a book signing of Mike's debut book of poetry, 'The Better Part of Some Time'. League of Canadian Poets - Southern Ontario Members (Zoom Open Mic)
November 24th, 2022
A League of Canadian Poets virtual Open Mic event.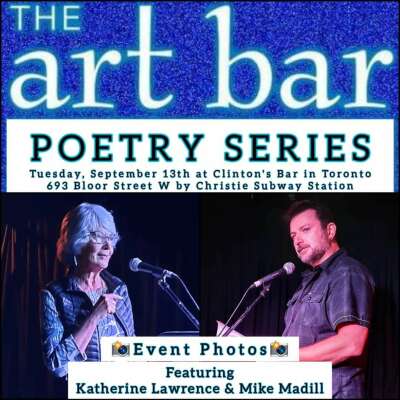 The Art Bar Poetry Series
September 13th, 2022
Featured reader at this long-running, weekly poetry event in Toronto. The Prince of Poetry Reading for Don Gutteridge
June 25th, 2022
Featured reader at this tribute event for poet Don Gutteridge in London, Ontario. Oh!Sound Podcast
June 16th, 2022
Mike read his poetry during the Open Mic of the Oh!Sound Podcast, (run by Owen Sound Poet Laureate Richard Yves-Sitoski). Richmond Hill Public Library Poetry Gala
April 7th, 2018
Featured reader at the Richmond Hill Public Library's 14th Annual Poetry Gala. Matthews House Hospice 'Hope for the Holidays' Remembrance Service
December 12th, 2015
Featured reader at this special event in Alliston, Ontario. Richmond Hill Public Library Featured Poets
May 12th, 2012
Mike read at this Richmond Hill Public Library event with Poet-in-Residence Barry Dempster. Open Mic at Covernotes (Cardinal Press) Coffee House
July 6th, 2011
An Open Mic night at this Coffee House in Newmarket, Ontario.